5 Crispy Chaat Recipes to Delight Your Palates This Monsoon Season
August 3, 2022
What is the best thing about the monsoon season? Well, it's hard to say just one. From beautiful weather, lush green landscapes, delicious snacks, and more, there are plenty of reasons to fall in love with this season. The moment the rain starts to fall, our taste buds automatically start craving something hot, crisp and delicious. Trust us, there's nothing better than savoring a plateful of crunchy snacks paired with a cup of 'kadak' chai. From bonda to vada pav to pakora and more, there is an endless list of crunchy and crunchy snacks, leaving us with no choice. Adding to this list, here we bring you 5 crispy chaat recipes to delight your taste buds this monsoon season. All of these snacks are not only delicious, but they are also very easy and quick to prepare. Without much ado, let's start with the list.
Also Read: 5 Healthy Chaat Recipes in Under 15 Minutes; You won't mind having these on repeat
Monsoon Special – Here are 5 Crispy Chaat Recipes You Must Try:
1. Palak Patta Chaat (Our recommendation)
When we think of crispy chaats, there is one chaat that has yet to receive its fair share of honor. We are talking about the delicious Palak Patta Chaat. Spinach leaves dipped in spicy besan batter and fried until crisp, this chaat recipe is perfect for satisfying late-night hunger. Click here for the full palak patta chaat recipe.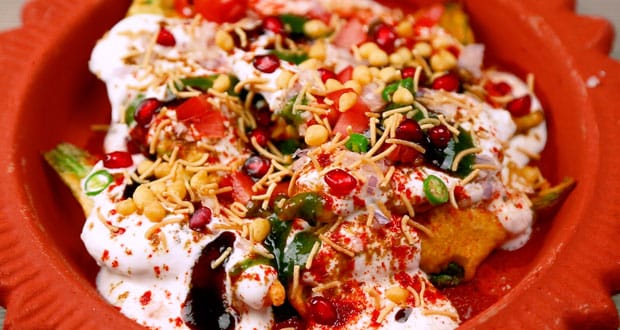 2. Batan Papdi Chaat
Here's a Sindhi-style chaat recipe that everyone loves. This chaat recipe is made with papdi, tossed into a pool of masalas and lip-smacking chutneys. It is completed with sev to give it a more crispy texture. Click here to see the recipe.
3. Samosa Chaat
Did you ever think your favorite snack would turn into a lip-smacking chaat? Okay, yes! Here we bring you an amalgamation of two of the most beloved street style snacks. Trust us, once you try this, you will do it again and again. Click here to see the recipe.
4. Chatpati Aloo Chaat
Here we bring you the most popular street food recipe that originated in the streets of Old Delhi and now shares a huge following in other parts of the country. In this recipe, potato cubes are fried until golden brown and then tossed into a pool of masalas and chutneys. Click here for the recipe for chatpati aloo chaat.
5. Special Bangalore Masala Puri Chaat
Finally, we bring you a chaat recipe that looks like a mix of Bengali-style ghugni and Mumbai-style pani puri. In this recipe, instead of filling the puri with masala, you crush the puri to create the base and spread masala on top of it. Wondering how to do it? Click here.
So, what are you waiting for? Give these crispy chaat recipes a try and let us know how you liked them in the comments section below.
Happy Monsoon!