American College of Lifestyle Medicine offers free resources to help people eat healthy, affordable meals during high inflation
August 4, 2022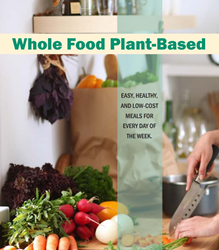 "A common misconception is that healthy foods are more expensive than less healthy processed foods."

ST. LOUIS, Missouri (PRWEB)
August 04, 2022
With food prices on the rise and more people facing the threat of food and nutrition insecurity, the American College of Lifestyle Medicine (ACLM) offers free resources to help individuals and families with a limited budget to identify affordable and nutritious foods and prepare them as healthy meals.
Food prices in May 2022 were 10% higher than in May 2021, the first double-digit increase in a one-year period since 1981. Rising prices for gasoline, housing and other goods combined to put further pressure on household finances for the foreseeable future. Increased demand has been reported at food banks across the country.
"Food insecurity is a very real and growing threat as inflation rises and more people have to make difficult decisions about how to spend their money," said Michelle Hauser, MD, MS, MPA, FACP, FACLM, DipABLM, Chef and author of ACLM's Free Culinary Medicine Curriculum. "What people eat and don't eat is the single most important risk factor for morbidity and mortality in the US, so it's important for healthcare professionals to help patients follow a healthy dietary pattern and not allow poor nutrition to cause more disease and chronic illness. ."
For the treatment, reversal, and prevention of lifestyle-related chronic diseases, the ACLM recommends an eating plan based predominantly on a variety of minimally processed vegetables, fruits, whole grains, legumes, nuts, and seeds. In 2021, the ACLM published a series of white papers on the scientific evidence supporting the health benefits of plant-based nutrition.
Dr. Hauser, Director of Obesity Medicine at the Stanford University Medical Weight Loss Program, said a common misconception is that healthy foods are more expensive than less healthy processed foods. While healthy foods sold ready-to-eat are expensive, dried beans and grains are inexpensive and can be made into healthy and tasty meals if people know how to prepare them. ACLM offers resources with low-cost, easy and healthy meal recipes for every day of the week, including a shopping list and "staple foods" that can be prepared ahead of time.
It's important for people facing the threat of food and nutrition insecurity to be aware of resources from other organizations like Feeding America, where people can search their community to find food banks, some of which offer cooking lessons. Physicians can also often help guide people to free nutritional cooking classes in their communities.
"Dried beans or grains are very affordable and are an excellent source of protein," said Dr. Hauser. "But that doesn't do people much good if they don't know how to cook them and turn them into a healthy and tasty meal. In this age of convenience, more people don't have culinary skills, so it's critical that we give them the knowledge and support to learn how to do it."
Dr. Hauser regularly screens patients for food insecurity and incorporates cooking classes into her clinical practice to teach patients how to prepare healthy foods that support short- and long-term health goals. Counseling is tailored to each person's situation because food deserts and lack of transportation make it more difficult for some to access healthy food.
Examples of advice he offers include:

Learn to cook and do it often. This is the most important thing anyone can do. The more you cook, the healthier you will eat and the more money you will save.

Buy frozen fruits and vegetables instead of canned. Frozen food is generally cheaper, if you have space in the freezer. It tastes better and is less likely to have added sugars, salts, and chemicals leached from containers.

Eat less meat. It's expensive, and eating less can save money and improve health. Plant-based protein sources, such as lentils or beans, are cheaper and healthier.

Buy in season. Products are often more affordable when they are in season. Get familiar with food seasons and look for deep discounts as products near the end of their store life.

Check the farmer's markets. Many allow you to double your SNAP (food stamp) dollars on farm products. You can also find great discounts at closing time.
Dr. Hauser is available for media interviews about food insecurity and healthy eating on a budget. To request an interview, contact Alex Branch, ACLM Director of Communications, at [email protected]
ABOUT ACLM: The American College of Lifestyle Medicine is the nation's medical professional society advancing lifestyle medicine as the foundation for a redesigned, equitable, values-based health care system leading to holistic health of the person. ACLM educates, equips, empowers, and supports its members through quality, evidence-based education, certification, and research to identify and eradicate the root cause of chronic disease, with the goal of clinical outcomes of restoring health rather than of disease control.
Share the article on social networks or send an email: