Light vegetable recipes for summer
August 1, 2022
It's that time of year again when the temperature is consistently high and the sun is blazing, showing its tenacity in all its glory. At times like these, we often crave cold treats and ditch the regular ones.
However, it is more important now than ever to get our daily nutrition intake. While meat during this time can feel heavy and leave us feeling overwhelmed, summer vegetables will leave us feeling lighter and yet a full belly.
For the latest news, follow The Daily Star's Google News channel.
So here are some vegetable recipes for you to try this summer.
VEGETABLE BIBIMBAP
Bibimbap is a Korean staple dish consisting of rice, assorted vegetables, and sometimes meat. This is a lighter, healthier version made with only vegetables.
Ingredients
1 cup of rice
1 cup cabbage
1 carrot
1 tomato
1 cucumber
300g spinach
1 tablespoon kimchi
1 tablespoon vegetable oil
2 eggs
1 teaspoon salt
1 teaspoon black pepper
½ teaspoon chili flakes
½ teaspoon sesame seeds
For the sauce –
2 teaspoons gochujang
1 teaspoon soy sauce
1 teaspoon sesame oil
½ teaspoon vinegar
1 teaspoon granulated garlic
1 teaspoon of sugar
Method
Cook the white rice as you normally would. For the vegetables, cut the carrot and cucumber into matchsticks and set them aside. Cut the tomato into small strips and shred the cabbage, also prepare the spinach.
In a pan, add a teaspoon of vegetable oil and sauté the vegetables one by one. Firstly, add the carrots and season with salt and pepper just for a couple of minutes. Remove carrots and add cabbage and do the same. Repeat the process with the spinach as well.
For the cucumber and tomatoes, sprinkle with salt, pepper, and chili flakes, and mix individually. Mix all the sauce ingredients and fry the egg with the sunny side up. To assemble, place the prepared vegetables in equal portions over the rice so you have six vegetable servings.
Place sunny side up egg in center and drizzle over sauce. Serve this warm and mix everything together to eat!
RATATOUILLE
The famous dish from the titular movie Ratatouille – we've all heard of it, but have we ever tried it? It is the perfect to make with the vegetables available during the summer.
Ingredients
3 tomatoes
1 long eggplant
1 cucumber
1 carrot
For the sauce –
1 large onion
1 bell pepper
4 cloves of garlic
Any leftover vegetable scraps
3 tablespoons olive oil
1 teaspoon salt
1 teaspoon of pepper
1 teaspoon rosemary
Method
To prepare the vegetables, cut them with a mandolin into 2 mm thick slices including the aubergine, cucumber and carrot. For the tomatoes, blanch them and remove the skin. Cut them carefully into about 2 mm thick.
For the sauce, in a large skillet, add a tablespoon of olive oil. Then add leftover vegetable scraps, minced onion, bell pepper, and garlic. Season this with salt and pepper and let it cook, stirring occasionally until the vegetables are soft.
Mix everything together with a couple of tablespoons of olive oil and rosemary. To assemble, pour the sauce over a flat round baking dish, just enough to cover the bottom. Then layer the vegetables on top of each other to create a single, beautiful layer of shingles.
Generously drizzle a tablespoon of olive oil over this, cover everything with parchment paper leaving a hole in the center and bake at 140°C for 90 minutes. Once done, serve hot!
VIETNAMESE SPRING ROLLS
These spring rolls are very light to eat and filled with fresh vegetables, making them the perfect snack to eat in the summer.
Ingredients
12-15 sheets of rice paper
warm water for dipping
1 carrot
1 cucumber
2 okra sticks
Pinch of salt
pinch of turmeric
200g rice noodles
2 eggs
2 tablespoons of oil
For the dipping sauce –
2 tablespoons smooth peanut butter
1 ½ tablespoons hoisin sauce
2 tablespoons hot sriracha sauce
1 tablespoon lime juice
1 tablespoon of water
1 teaspoon granulated garlic
Method
Cut the carrots and cucumber into matchsticks and set aside. Cut the okra into circles and lightly sauté them with a little oil, salt and turmeric; put that aside too. Next, break the two eggs and mix them well. Put enough oil in a pan and make an omelette. Cut the tortilla into wide strips.
Cook rice noodles according to package directions. For the dipping sauce, mix together the peanut butter, hoisin sauce, sriracha sauce, and garlic. Add lime juice and dilute with water.
To assemble, dip the rice paper in warm water and place on a kitchen towel. Be careful with this as rice paper tends to stick everywhere. Roll out the rice paper and place the okra first. Place tortilla sheets on top. Add a mix of the other vegetables and finally some noodles.
Fold the top and bottom edges in first and seal the edges. Then pull one side and cover the edge. Roll it on its side and wrap it all up well. You can also serve it cold, along with the dipping sauce.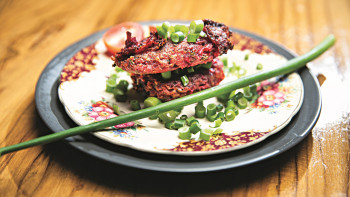 MASHED CUCUMBER SALAD
This is a very simple yet incredibly delicious dish found in most Southeast Asian cuisines, which can be enjoyed on its own or as a side dish.
Ingredients
2 large cucumbers
1 teaspoon granulated garlic
1 ½ teaspoon sesame oil
1 teaspoon salt
2 tablespoons chili oil
Method
Cut the cucumber in half lengthwise and then cut it into smaller cylindrical pieces. Use the flat side of your knife or a rolling pin to flatten the cucumbers lightly. Toss cucumbers with sesame oil, salt and garlic. Then drizzle over the chili oil and give it another flip before serving.
Food and photography: Fariha Amber