Mother-in-Law's Launches Drinkable MUL Kimchi at Sprouts Farmers Market Nationwide
August 3, 2022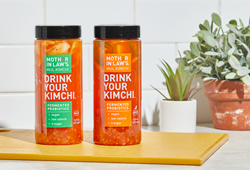 "We use time-honored Korean fermentation techniques, combined with premium ingredients and culinary craftsmanship, to create flavors and health benefits that delight modern American palates while honoring our Korean heritage." Lauryn Chun, founder of Mother-in-Law's

NEW YORK (PRWEB)
August 03, 2022
Mother-in-Law's, an artisan kimchi brand and a pioneer in the fermented food category, is pleased to announce the launch of MUL Kimchi at Sprouts Farmers Markets nationwide and online at milkimchi.com.
MUL, which means "water" in Korean, symbolic as essential to life, is a light and refreshing drink that makes it easy to enjoy the spicy flavors of kimchi more often and in a variety of new ways.
How is MUL manufactured?

MUL combines fermented kimchi liquid topped with a layer of diced vegetables. Bursting with flavor, it's plant-based with no sugar, no calories, and billions of natural probiotics for gut-healthy nutrition.
Based on Mother's-in-Law's traditional kimchi recipe, MUL uses clean, natural ingredients and goes through a unique fermentation process resulting in an invigorating drink that is subtler than kimchi but still full of zingy, umami notes. and health benefits.
health benefits

Promotes microbiome health

Reduces inflammation

Helps with digestion

Boosts immunity and energy.

Hydrate with natural electrolytes
The fizzy drink can be compared to salty kombucha, but because it has no sugar or calories, it's healthier than kombucha and most other sources of probiotics
Ways to Enjoy MUL MUL can be enjoyed straight from the bottle, on the go, or, as MIL founder Lauryn Chun recommends, savored as Koreans have for hundreds of years: pour it into a bowl, add some cold noodles, and sip it.

Drink straight from the bottle for an energizing, probiotic-rich plant-based meal solution.

Drink from a bowl (or glass) as a satisfying broth.

Enjoy it the traditional way: in a bowl with cold noodles.

Serve it over rice or tofu for an easy summer lunch.

Pair it with a warm grilled cheese sandwich.

In winter serve with hot stews to cleanse the palate.
MUL is most refreshing in the summer, but can be enjoyed year-round. It is available in 2 flavors, mild for any occasion and spicy with the added energy of fresh jalapeños.
Where to Buy MUL Kimchi is sold online and exclusively at Sprouts Farmers Market nationwide for $6.99 in their plant-based refrigerated cooler and online for $67 + shipping for a set of six 16-oz jars. For the nearest store locations and more information, visit milkimchi.com
"At Mother-In-Law's, our inspiration is to provide a bridge between authentic traditional kimchi and modern American lifestyle, ingredients and palates. We use time-honored Korean fermentation techniques, combined with premium ingredients and culinary craftsmanship, to create flavor and health benefits that delight modern palates while honoring our Korean heritage. MUL kimchi is our next step in that mission." – Lauryn Chun, founder of Mother-in-Law's
About the mother in law

Mother-in-Law's mission is to share authentic kimchi that's delicious and bursting with healthy probiotics. Started in 2009 by Lauryn Chun while living in the heart of New York's burgeoning artisan food scene, she sold the first 9 jars of it in a milk carton at the old Essex Market on the Lower East Side. Since then, MIL has pioneered the fermented foods category, sharing the rich, nuanced flavors of the Korean pantry and championing its probiotic benefits for gut health to shape a modern kimchi narrative.
Kimchi has become a multicultural mainstay in supermarket aisles, menus, and dining tables around the world. It is savored for its complex and spicy flavors and pairs well with local dishes.
A quintessential Korean banchan or side dish served as part of every meal, kimchi is steeped in culinary ritual and cultural identity. As part of their matriarchal tradition, grandmothers pass down their recipes to their daughters and granddaughters, and it is customary for a bride to learn the family kimchi recipe from her new mother-in-law.
MIL's line of artisanal products includes the best-selling House Reserve Kimchi, an original family recipe crafted by Chun's mother, owner of Jang Mo Jip (Mother-In-Law's House), founded in 1989 in Garden Grove, California – Everyday Kimchi , Gochujang Paste, Kimjang Gochugaru Chili Flakes, and MUL Kimchi. Visit milkimchi.com.
Sprout Farmers Market

Sprouts is the place where kindness grows. True to its farmhouse heritage, Sprouts offers a unique shopping experience featuring an open layout with fresh produce at the heart of the store. Sprouts naturally inspires wellness with a carefully curated assortment of better-for-you products paired with people with purpose. The healthy grocery store continues to provide the latest in healthy and innovative products made with lifestyle-friendly ingredients such as organic, plant-based and gluten-free. Headquartered in Phoenix, and one of the largest and fastest growing specialty retailers of fresh, natural and organic foods in the United States, Sprouts employs approximately 31,000 team members and operates approximately 380 stores in 23 states across the country. . This year Sprouts celebrates its 20th anniversary. To learn more about Sprouts and the good it brings to communities, visit sprouts.com.
Share the article on social networks or send an email: