'Welcome back, students and families!' | Article
August 6, 2022
DoDEA Americas offers instructions to prepare for the 2022-23 school year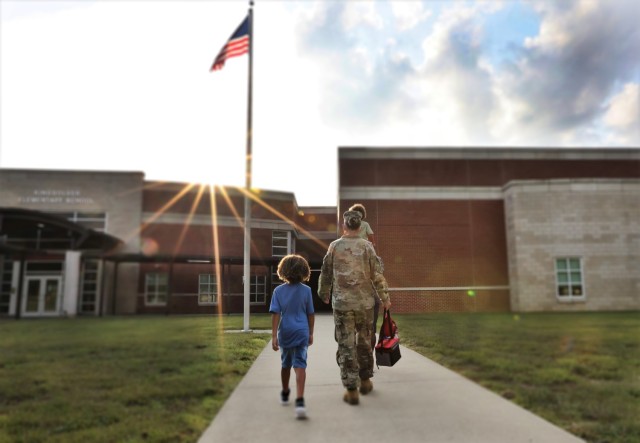 DoDEA Americas
PEACH TREE, Ga. — Nearly 19,000 students will return to schools at the Department of Defense Educational Activity in the Americas, including students from Fort Knox Schools on August 8.
DoDEA Americas operates 50 schools in seven states, Puerto Rico, and Cuba.
"Happy New [School] Year!" said Judith Minor, DoDEA Americas Director of Student Excellence. "Students are excited to get back in the classroom and reconnect with friends; parents are making plans for fall activities; and our committed teachers, administrators and staff have been working diligently in anticipation of your students' arrival."
Minor praised parents and students for adjusting to regular changes due to COVID restrictions since 2020.
"We have weathered two difficult years with courage and determination. A big thank you to our families, teachers and administrators for all you do to support student learning and success," Minor said. "I wish each of our students a successful new school year."
Minor also offered tips on what to expect during the coming year, which for Fort Knox parents and students, as well as area students, begins August 8.
Back to school highlights.
Health and security: "We want to keep everyone healthy and safe, and our schools open for learning. To that end, we ask families to continue to practice daily prevention strategies and screen their students for symptoms before they come to school."
More information on the COVID-19 Operating Guidelines and Protocols for Schools is available HERE.
Student meals: "For the last two years, school students' meals were free. The free meals initiative was thanks to special pandemic-era funding provided through the U.S. Department of Agriculture. That funding expired in June. Just like before the pandemic, students will pay for school meals this school year. Applications to apply for free and reduced-price meals are available online."
Call for Substitute Teachers: "DoDEA is always looking for quality substitute teachers and educational assistants to serve in our schools. It's a great way to see how DoDEA works firsthand and to get involved in our children's education." Learn more here.
Dress code: "Our dress code remains unchanged from last school year. DoDEA is in the process of creating a new policy that will standardize and simplify its dress code. More to come!"
Our students.
Graduates of the Department of Defense Educational Activity are often poised to succeed in a dynamic world. The numbers bear this out, as last year DoDEA Americas graduated 99% of its students, with 76% heading off to college. When they leave, they take with them an impressive $12 million in annual scholarships.
Minor said the students also score higher than their peers nationally on standardized tests.
"You may have heard of children being left behind due to the pandemic. That is not true at DoDEA," Minor said. "Our kids improved or stayed the same in math and English language arts."
Excellence in Education.
The schools' quest for excellence in education is driven by DoDEA's Plan for Continuous Improvement.
This plan serves as the foundation for planning within DoDEA, directs collective energies and resources, and adjusts as progress and the environment change. As a result, DoDEA's vision is excellence in education for all students, every day, everywhere.
To support this quest for organizational excellence, DoDEA administrators developed the Americas Regional Plan for Continuous Improvement, which features three goals and seven focus areas. Educators use this plan to be intentional about how they advance continuous improvement of teaching and learning systemically and systematically across the region.
DoDEA Americas received two exciting recognitions of excellence this year:
* Angela Stephens was named DoDEA Director of the Year in April. Stephens is the principal of Bolden Elementary/Middle School in Laurel Bay, South Carolina.
* Two schools have been recognized as National Blue Ribbon Schools by the US Department of Education: West Point Middle School and Andre Lucas Elementary School. About a third of the schools have been named Blue Ribbon schools:
For specific information about Fort Knox Schools before school starts, visit the DoDEA Americas website HERE.