Zion's Community House serves 70 students during summer enrichment program
July 30, 2022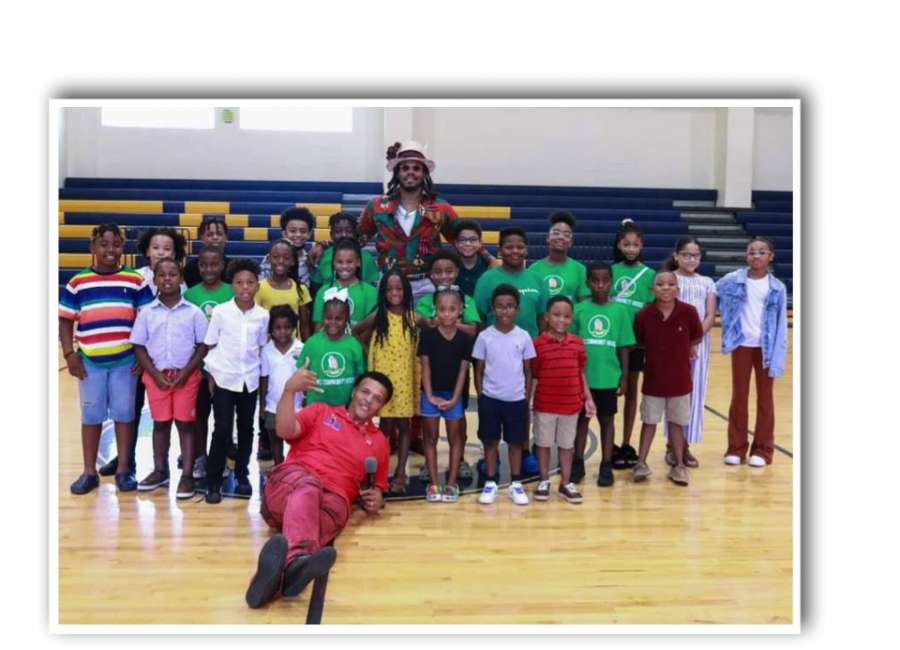 Photo courtesy of Zion Community House
A program to celebrate summer enrichment was held for students and staff on Sunday, July 24. NFL free agent Cam Newton was in attendance. His father, Bishop Cecil Newton, is a pastor of Holy Zion Ministries, which works in partnership with Zion Community House to organize enrichment activities during the summer.
---
Zion's Community House served 70 Pre-K through 12th grade students during its summer enrichment program.
ZCH is a philanthropic entity of Holy Zion Ministries of Newnan. Bishop Cecil Newton pastors the church and is the father of NFL free agent Cam Newton. Newton is from Atlanta and his foundation, The Cam Newton Foundation, also collaborates often with ZCH.
ZCH director Luther Day said the program focuses on enrichment, remediation and, of course, academics. ZCH has hosted the camp since 2017.
"We help students with math, ELA, science, Spanish, computers, recreation time and art," Day said. "We also emphasize life skills to help with the social aspect of the students."
Being safe and promoting safety is also part of the program, which includes nine staff members, including a retired Coweta County Schools principal, several Fulton County teachers and three former ZCH college students.
"We also had a licensed counselor, Mr. Derrick Lewis, who helped instill life skills in our middle school campers," Day said.
Day said summer enrichment wasn't all work and no play. Campers had "Fun Fridays" which included trips to the pool, park, skating rink, library, civil rights museums, etc.
Day said one of the challenges was not having enough space for all the activities the camp initially planned.
ZCH and Holy Zion Ministries, located on Temple Avenue in Newnan, are currently undergoing renovations, which are expected to be completed sometime next year.
"Thank you Evans Middle School for letting us use your gym," Day said.
Day said the camp should even feed the 70 students healthy meals.
Last week was the last week of enrichment and the campers had an end of the year celebration.
A formal service was also held at Evans Middle School on Sunday, July 24 during the Holy Zion Ministries service. The students participated in the program by reading different passages.
Newton was also in attendance and gave the students a pep talk, along with his father Cecil. The event culminated with a brunch. ZCH also hosted a free community event and backpack giveaway that day from 2-6 p.m.
Coweta resident Jemeka Beadles said she and her seventh and third graders have been participating in summer enrichment since the summer of 2019.
"Zion Community House has become our family," said Beadles. "I'm a nurse, so I had to take care of my children at the time, my six-year-old and nine-year-old. I did my research and Zion House was so affordable for a single mom. We are in year 3 and my children will have a huge head start when they go back to school because of the eight weeks at ZCH. They have continued with ELA and math and on top of that they have had many fun and educational field trips."
According to the American Camping Association (ACA), the average cost of a summer camp in the US is around $178.49 per day, and for an overnight camp, it is $448.53.
These numbers are a big increase from last year, when summer camp cost an average of $76 a day, and sleepover camp set you back $172 a day, according to the ACA. This means that ZCH is priced below the average of $75 per week for one child, $125 for two children per week, and $150 per week for three children.
Day said it's gratifying to see student growth over the summer, both academically and socially.
"They will be 100 percent prepared for the 2022-2023 academic school year," Day said.
ZCH is currently accepting applications for its after school program, which will begin on August 8. There is a registration fee of $15 per family. One child is $45 per week, two children are $80 per week, three children are $110 per week, and four children are $140 per week.